Which machine is right for you
Say something inspiring to cause the user to act now
These machines are EXCELLENT for drainage, irrigation, windmills, pipelines, construction or custom never-been-done-before work all over the world.
This is your solution
DK Precision Trenchers are made to handle Mother Earth. This is the most applicable piece of equipment you will own to dig a trench- accurately and precisely. Look no further- this is your solution.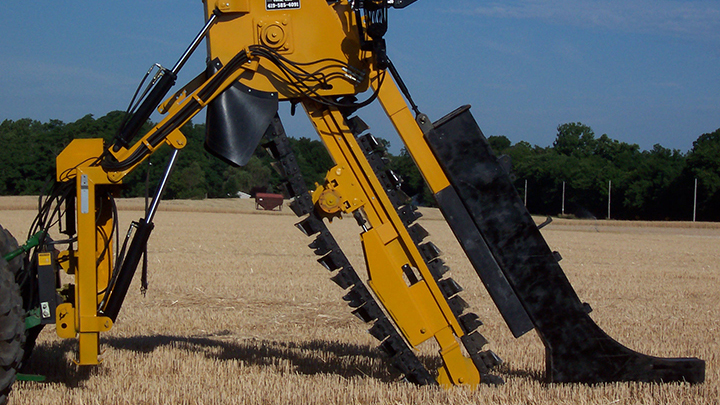 Trencher Models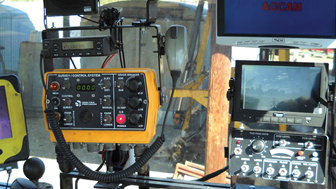 Applications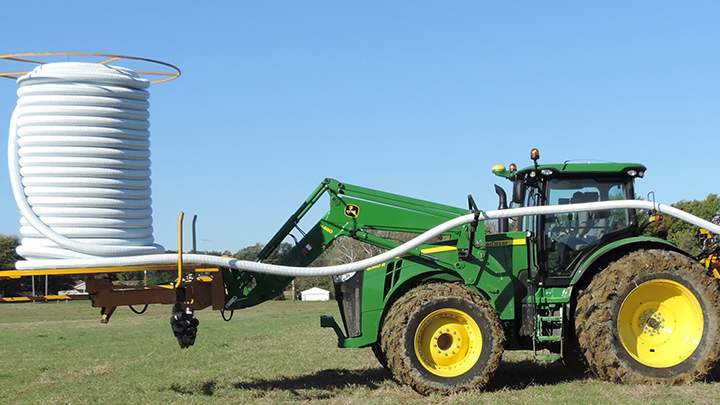 Trencher Accessories
Parts & Service
Parts
Ordering made simple! Download our parts book and find exactly what you need. Download our parts book, owner's manual, selected price lists, and chain & cutter set up.
Service
We offer on-site service and over-the-phone technical support. Call now for tech support or download terms and agreement forms for on-site service & schedule.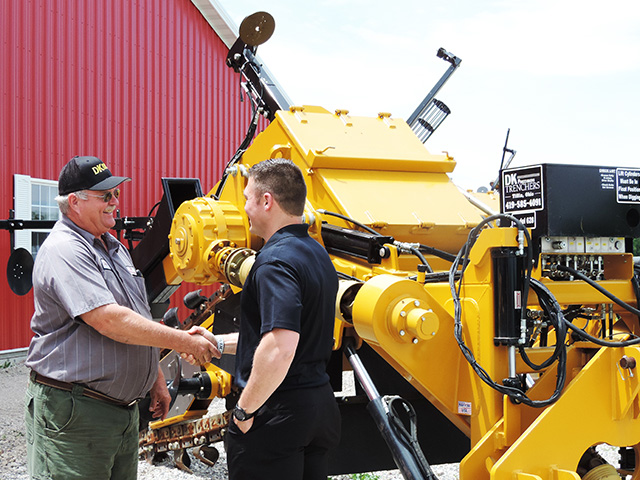 How to buy
You can purchase trencher models, parts and accessories directly through DK Trenchers, or through one of our dealers.
News and updates from DK Trenchers
Follow us for stories, tips, news, pictures & videos of our trenchers.
DK Trencher Models
Take a look at the models offered by DK Precision Trenchers. Find a that machine will fit your needs, and learn about the specifications for each machine.
DK-612 The Original DK Machine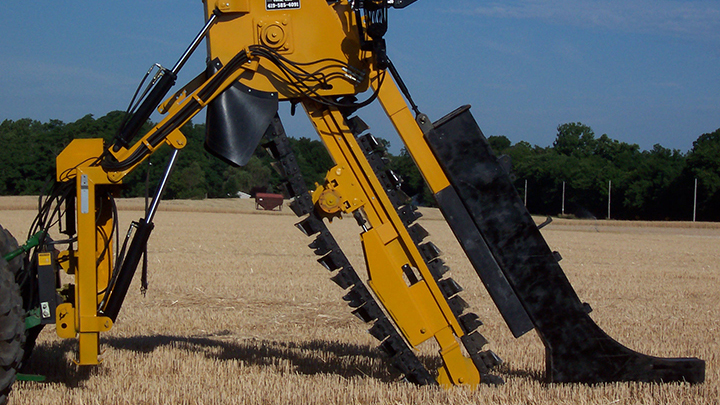 A great asset for smaller tile and smaller tractors. This efficient digging machine was introduced in 2008 and stormed the Ag market all over the country. 150 hp minimum, CVT or IVT, 3 Tractor Remotes, and 3 point hitch all required for this machine.
DK-612 Machine installs up to 8" Mains
6' Trenching Depth – 12" Trenching Width
Avg. Speed 30-60 ft. per minute
Extreme Precision with GPS/laser set up

Auto Self-leveling & Tilt and 90 degree turn in 60 feet



DK-628 The Beast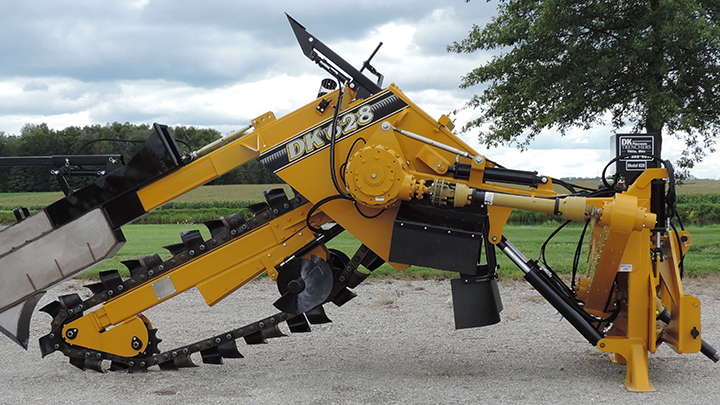 This machine was designed and brought to life by the high demand of a machine to install larger mains and to handle a wider variety of soil conditions not only all over America, but all over the world. DK Trenchers is proud to show off 'The Beast' with thicker steel, double the power, double the weight & capability of the Original DK Machine, the DK-612.
DK-628 Machine digs up to 24" wide with 6' trench depth
Avg. Speed 30-70 ft. per minute
Heavy Duty earth digging machine- weighs almost 14,000 pounds
GPS or Laser Accepting- Extreme precision
Dual Gearboxes for maximum power and speed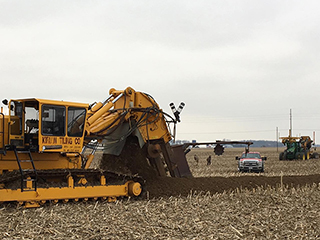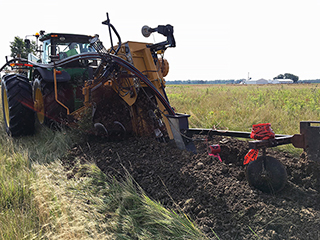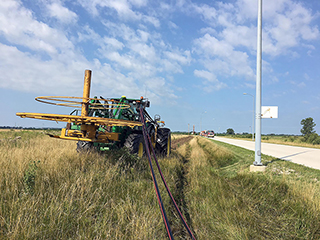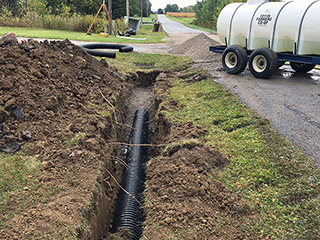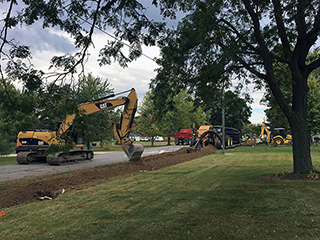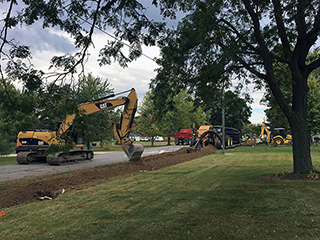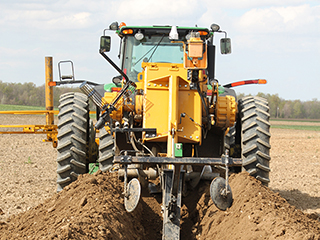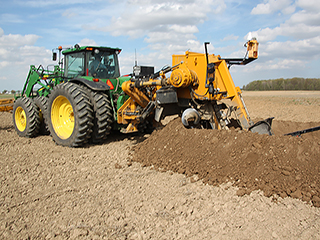 DK Trenchers Accessories
Some of the best most trusted equipment needs the best accessories to speed up and enhance your business. Take a look at some of the must-have items DK offers.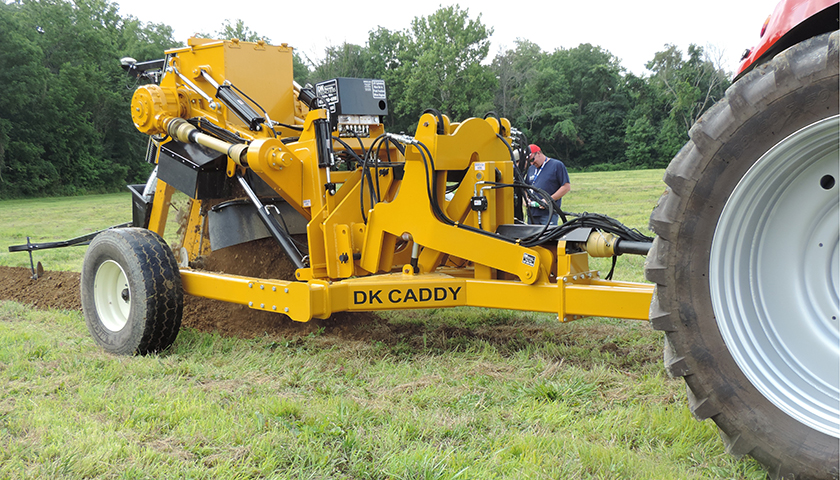 DK Caddy
This DK Caddy has been specifically designed to enhance the DK trenchers performance. Heavy, well built, and simple- the core idea brought to life. Do more with the genius idea of the DK Caddy.
Removes the necessity to have front end weights when carrying the DK on the 3-pt hitch.
Easier transportation- have a truck haul the trencher anywhere and free up your tractor sooner
Use a smaller tractor with the Caddy! Less vibration and uses less horsepower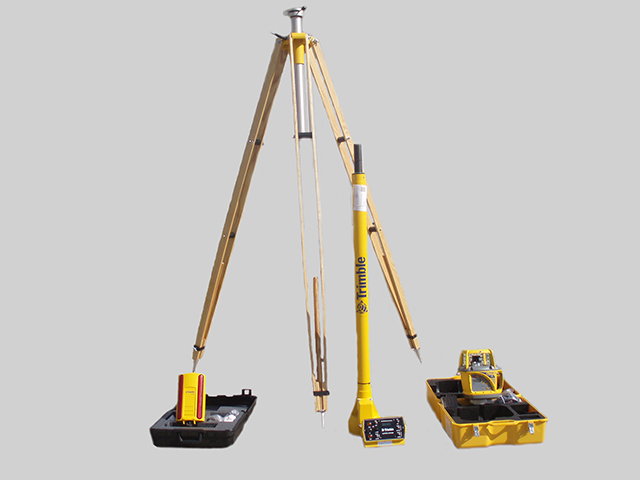 Complete Trimble Laser System
⦁ Easy Hookup in Cab with CB60 box
Laser Mast mounts easily to Laser Mount on trencher
Comes with Tripod, Cables, and Survey Stick

OnBoard Reel
OnBoard Reel makes tiling simple!
Fork mount on your tractor for easy hookup and pick up of tile roll
Less trouble with tile stretching with Onboard reel and tile feeder on trencher
Counter weights for your tractor to handle the DK Trencher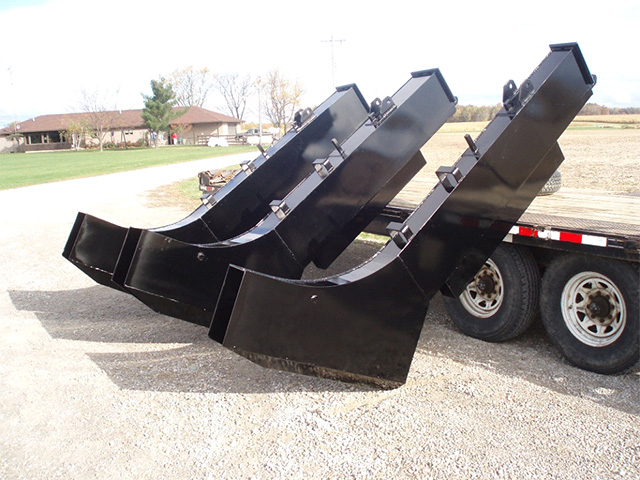 Trencher Boots
Sizes 4",6", & 8" for DK-612
Sizes 4", 6", 8", 10", 12", 15" for DK-628
Stainless Steel Sides for less stick during operation

EASY hookup to trencher